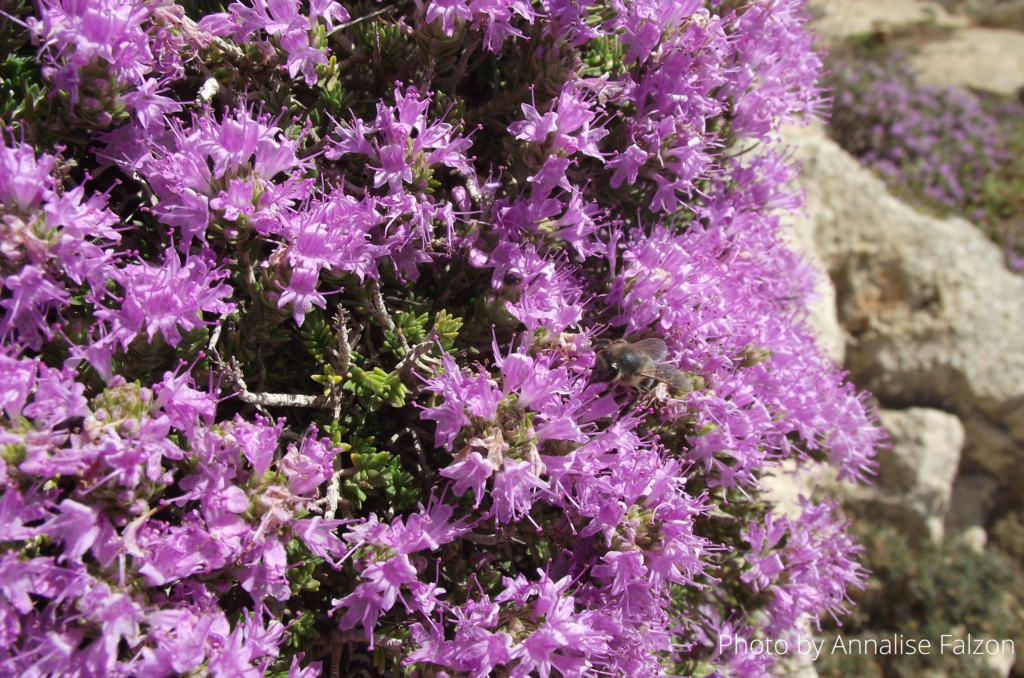 The purple reign is here – as the saying goes … it's time for thyme!
The Mediterranean Thyme (MT: Sagħtar) Thymbra capitata is a hardy low growing and aromatic shrub protected by law but not from the relentless winds and long droughts which dominate its preferred habitat. The expanses of garigue have by now dried up and most plants have withered, shed their leaves for summer or commenced their dormant period but the habitat still presents us with a marvellous start of summer spectacle of flowering mats ranging in hues of purple, lilac, pink and the occasional pale/whitish varieties and with a great buzzing of bees and other pollinators. Wild thyme seems to prefer sites with shallow Terrarossa soils on coralline limestone outcrops but is conspicuously absent in the southern parts of Malta where Globigerina Limestone is predominant.
Famed for its culinary and medicinal properties thyme is also a favourite food source sought by many pollinators. Local beekeepers sometimes transport their beehives to thyme-rich areas to benefit from this special time of year.
Its essential oils may smell like heaven to us but they are essentially a strategic way of surviving the challenges of overgrazing and drought in Mediterranean areas. If you visit garigue areas dominated by thyme you will hardly need to touch the plant as on hot days its aromatic oils evaporate profusely to provide the full aromatherapy experience to anyone walking by. Breathe in and savour it!
Photos and text by Annalise Falzon.