On a sunny October afternoon pallet builders Mike and Daniel of Pallet 42 came to the garden of Villa Chelsea to teach the clients and staff of Villa Chelsea how to reuse pallets to build garden furniture. We spent a few hours learning new skills and ended up with 3 handmade benches for the garden as a result, made from a recycled product and built with our own 2 hands!
We decided to build two different types of benches from the pallet material. For the first design, Mike and Daniel showed us how to deconstruct the pallets. They brought a very handy implement for the purpose, a special kind of crowbar that helps to easily lift off the different wooden slats that make up the pallets.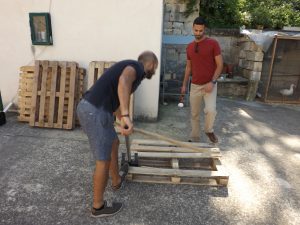 The participants of the workshop then worked together to remove the old rusty nails by hammering them out. This left us with clean wooden slats, some of which we sawed to equal lengths so they could become the legs of the bench, and others which we reserved for the seating part. After preparing the materials, Mike and Daniel showed us how to assemble the bench, which involved a simple design based on alternating the shorter leg pieces with the longer seating pieces. The participants were shown how to handle an electric drill safely, first to drill holes in the wood and then to screw the different pieces together. After about half an hour of assembly we had already created our first garden bench!
The second design was an even simpler construct: we sawed three pallets in equal pieces lengthwise, keeping some of the pallet structure intact. Then we assembled three pieces in a U shape and drilled screws to secure them together, and repeated this step to create a second bench of the same design.
After a few hours the clients and staff at Villa Chelsea were the proud owners of 3 new benches for their garden, made from salvaged materials and built with their own hands. They did not only have new skills under their belt, but created new places to enjoy the beauty of their garden!
A big well done to all the participants involved, and a special thanks to Mike and Daniel of Pallet 42 for dedicating their time and sharing their skills and knowledge.
For further information, please have a look at the Therapy through nature project page or email Suzanne Maas on suzanne@foemalta.org
Find out more about Pallet 42 and the bespoke furniture they create on www.facebook.com/pallet42