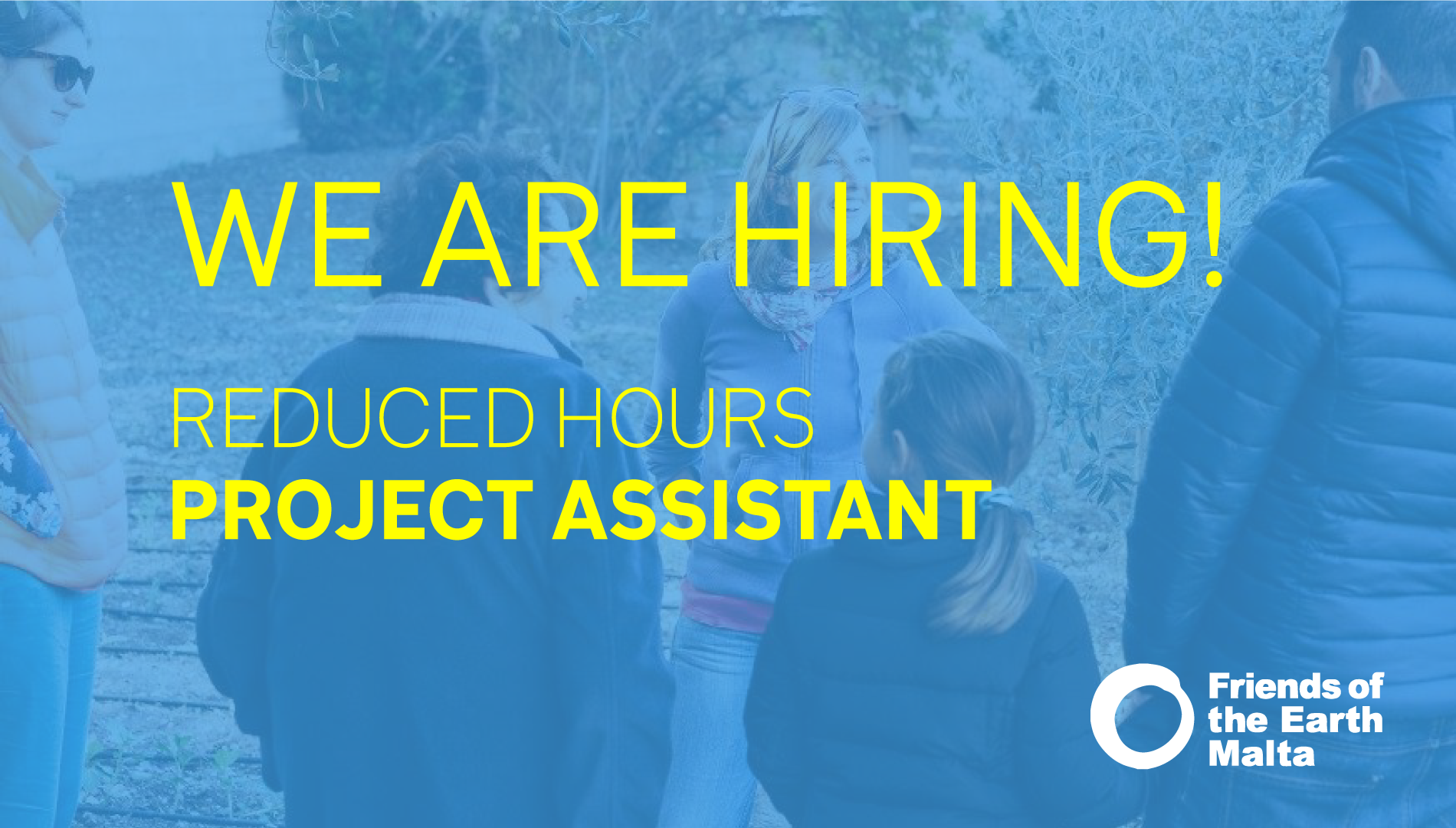 Friends of the Earth Malta (FoE Malta) is looking for a reduce hours Project Assistant (approximately 30hr/week) to work on some of our exciting projects on a definite contract basis. The Project Assistant will be working within a small team and will support the implementation of projects. The working conditions are flexible and will be discussed further during the interview.
Duties include:
You will be responsible for achieving the goals set by our projects, together with a group of volunteers. This is a busy and dynamic NGO environment where your duties will include: organising of educational activities; keeping financial records; media communications; membership recruitment; coordinating volunteers; and project reporting. Knowledge of web communications is essential. Some travel to other EU countries might be required as part of this job.
Qualifications:
Candidate should be fluent in Maltese and English and have at least a degree level of education. Knowledge in EU affairs and experience with EU projects will be considered an asset.
 The ideal candidate should:
Be organised and meticulous with a high degree of commitment
Be flexible and can work on own initiative
Ability to work in collaborative decision-making processes and have excellent people and communication skills
Be able to manage EU funds and local projects
Have sound experience in bookkeeping of small-sized organisations including an understanding of fundraising. General accounting procedures including but limited to financial reporting, billing documents, producing and tracking invoices and processing timesheets. Good computer literacy including advanced working proficiency in Excel and good communication skills with the ability to communicate financial matters to staff and other members of the NGO.
Have experience working in the environmental field and especially have an understanding of agriculture both from a rural or a policy perspective with an interest and knowledge in food sovereignty
Have experience in advocacy campaigns and movement building tactics and strategies focused on environmental or social justice objectives (desired but not essential)
Affinity with the vision and values of Friends of the Earth Malta and be aware of the challenges and issues surrounding eNGOs.
Send your application by filling in the online application form by noon Wednesday 19th September 2018, quoting Ref:FoE 1804. Eligible candidates will be invited to an interview which will be held in Malta in September 2018. Friends of the Earth's recruitment and selection procedure is firmly based on equal opportunities best practice.
SaveSave
SaveSave
SaveSave
SaveSave