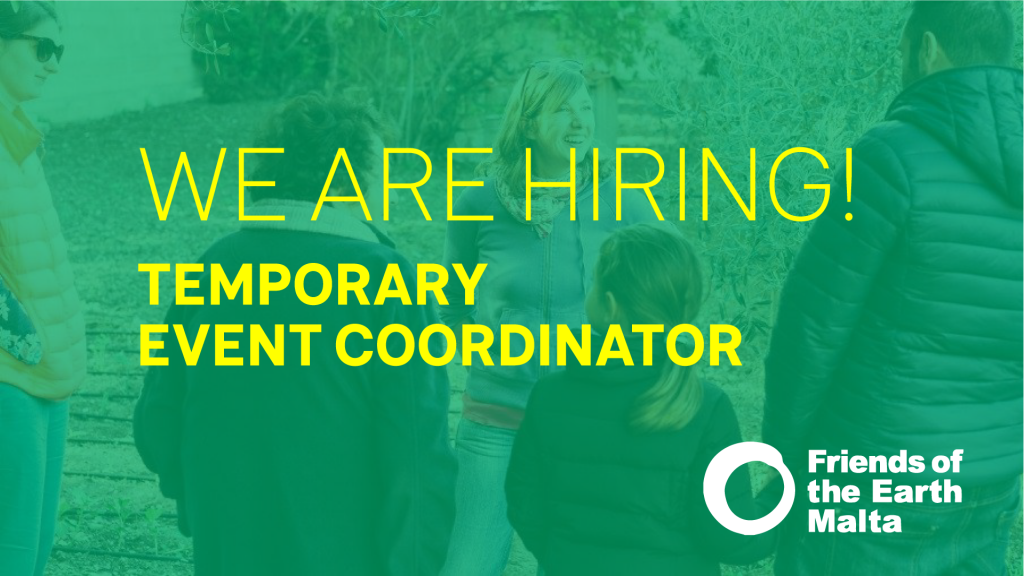 Friends of the Earth Malta (FoE Malta) is looking for a temporary Event Coordinator to work on one of our projects based in Gozo. You will be responsible for coordinating activities as part of this project which will involve a definite number of educational activities in Natura 2000 sites in Gozo. You will be working mostly independently on organising the activities but with the support of the FoE Malta team. The working conditions are flexible and will be discussed further during the interview.
 The ideal candidate should:
Be fluent in Maltese and English
Have a good knowledge of Gozo and ideally knowledge of Natura 2000 sites on the island
Be either based in Gozo or able and wiling to commute for the activities
Be organised and meticulous with a high degree of commitment and able to work within a specific budget
Be flexible and can work on own initiative since you would be the main person responsible for organising and coordinating the activities
Be able to work on weekends since the activities may be during the weekend
Have excellent people and communication skills
Have experience working in the environmentally field and be well connected with community members in Gozo (people managing Natura 2000 sites, farmers, beekeepers, youth organisations, local councils) would be desirable.

Affinity with the vision and values of Friends of the Earth Malta
Send your application by filling in the online application form by noon Tuesday 22th May 2018. Eligible candidates will be invited to an interview (either in person or through Skype) the following week. Friends of the Earth's recruitment and selection procedure is firmly based on equal opportunities best practice.
SaveSave
SaveSave
SaveSave
SaveSave
SaveSave
SaveSave