FoE Malta condemns murder of journalist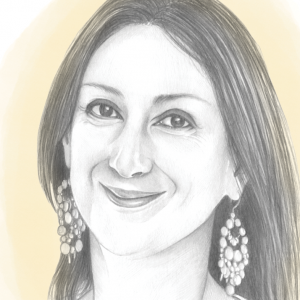 Friends of the Earth Malta condemns the cruel murder of journalist Daphne Caruana Galizia and offer condolences to her family, friends and all who worked alongside her.
In light of this horrendous crime our duty to expose and resist injustices has never been so critical – civil society, including environmental NGOs are needed to be at the vanguard of free speech and justice.
As a controversial journalist we have not always agreed with her agenda and idea of "normality", especially when fellow members and colleagues were directly targeted by her blog. Yet, her relentless reporting in relation to corruption and the links to the international financial and criminal worlds were the only voice that detailed the murky reality our country is currently in.
For decades we have had politicians from both parties in government who have rolled the red carpet to dubious tycoons, autocratic leaders and tax evaders. This "make hay whilst the sun shines" attitude until last Monday had led to shady policies and decisions, including some of the biggest environmental and social injustices suffered by the country. Since last Monday a dark cloud has settled firmly on our country as many have come to realise that our institutionalised courting of a beast much bigger than them is now threatening to destroy the very fabric of our society.
We believe that until the institutions are unshackled from the grip of such forces there will be no prospect of environmental and social justice in the country.