At the beginning of April, Friends of the Earth Malta launched 'Food for thought', a poll designed to gauge people's insight into European Agricultural policy, and their own personal preferences when it comes to local farming and produces.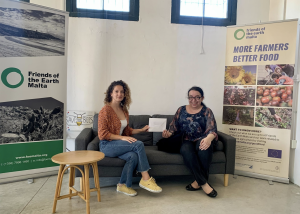 This ran for a whole month, where participants whom answered the 8 question poll had the opportunity to win a €100 voucher at a local shop supplying local, fair, and green produce.
There were 487 of you! It was with great curiosity that we looked through the responses and saw the many common frustrations and challenges when it comes to finding and buying fresh local produce, or even having the opportunity to grow your own. In fact, we will be diving into all this information and making sense of it in an article which will be published later in July on our blog.
After the poll closed on the 2nd of May, two winners were randomly picked and contacted with the good news. Yesterday we finally got to meet them at our office to congratulate them and award them the €100 voucher. It was nice to meet both Rachel- Ann and Dijana and get to chat a bit about farming and our food. These lucky winners will redeem their vouchers, respectively from local shops supporting local, fair and sustainable farming, The Veg Box & CORE GREEN –Organic & Fair trade.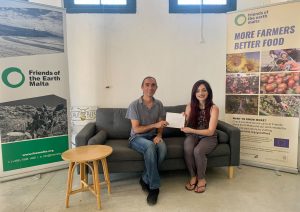 Emanuela at the Veg Box works together with local farmers to bring naturally grown, pesticide-free, organic, locally grown produce to the consumer in so supporting Local, Seasonal, & Sustainable Farming. While Nathalie at CORE Green- Organic & Fair trade has created a beautiful space in their warehouse where they provice organic, fairtrade, vegan & ethical products. This ranges from food, beverages, snacks, cleaning products, wine, spirits beauty & personal care products. We at Friends of the Earth would like to thank all those who participated, and encourage all to keep supporting sustainable agriculture and eating seasonal fresh fruit and vegetables that have been produced by local, small-scale farmers.
Let's say YES to good food and good farming! #NewCap