Friends of the Earth Malta in partnership with SOS Malta, Paolo Friere Institute,  Mosta Local Council and the Ministry of Rural Affairs and the Environment has launched a project entitled DAWL – Energy, Employment, Empowerment. The project is partly funded by the European Union's European Social Fund . The aim of the project is to increase the employability of women who have been out of the labour market for a number of years by providing life learning through hands-on training and development approach to unemployed women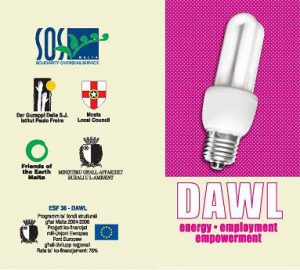 The project also aims to demonstrate cost-effective measures which low-income households can take to lower their monthly water and electricity expenditure resulting in savings in energy and water consumption at household level and to raise awareness regarding energy and water issues.
One of the objectives is to increase the female participation rate in the labour market by improving the opportunities for women to work. This pilot project will provide the blue print for setting up of a medium enterprise which will provide part-time, flexible hours employment for women as trainers/ information disseminators in the field of energy and water saving. Such enterprise would be set up in partnership with the business sector, local authorities and NGO. In the short term this project will train 5 women in this sector as well as interpersonal skills and will thus increase their employability.
The project addresses SPD Policy Priority2. Developing People and Measure 2.1 Employability and Adaptability which seeks to upgrade Malta's human resource base by reskilling its workforce and to integrate potential workers into the labour force by creating employment opportunities which are suitable to their skills and which take their constraints into account. Studies show that in Malta predominantly more women than men drop out of the workforce to stay at home and take care of the children, facing difficulties when they wish to re-enter the labour market some years on. While it is recognised that every effort should be made to address this imbalance, measures are being put in place to encourage and facilitate women's re-entry in the market.
In 2009 Progett Dawl was replicated in two areas in Cospicua by Agenzija Appogg Cottonera Community Services in collaboration with ETC and ACCESS Community Resource Centre. . Its main aim was to empower families through education and imparting of information on energy saving techniques. The ETC provided six young people who are participating in the corporation's Job Experience Scheme. Training in energy saving techniques and communication skills was provided to all six participants.
You can watch the video by clicking here