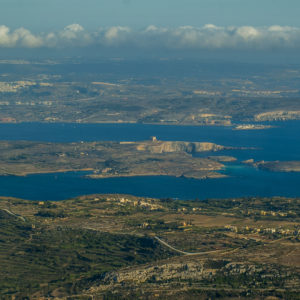 Friends of the Earth Malta together with eleven other organisations representing a broad spectrum of society filed a judicial protest against the Minister for Transport and the Planning Authority to reveal all studies pertaining to the proposed tunnel between Malta and Gozo. They also asked for the carrying out of a Strategic Environmental Assessment (SEA) as required by national and EU laws.
The organisations state: "This game of hide and seek and of withholding of essential information must stop. The proposed tunnel will have enormous and far reaching consequences on the health, quality of life and environment of all who live in Malta and Gozo. Citizens cannot be left in the dark as to the true implications of such momentous decisions. We call upon the authorities to publish all the studies so that citizens may develop an opinion based on facts. That is a major principle of democracy."
The twelve organisations filing the judicial protest are:
Din l-Art Ħelwa, Ramblers' Association of Malta, Nature Trust (Malta), BirdLife Malta, Friends of the Earth Malta, Moviment Graffitti, The Archaeological Society Malta, Flimkien għal Ambjent Aħjar, Kamra tal-Periti, Isles of the Left, Bicycle Advocacy Group and Żminijietna – Voice of the Left
---
Stqarrija Stampa Konġunta 06/04/2019
Ġie ppreżentat protest ġudizzjarju li jsejjaħ għal pubblikazzjoni immedjata tal-istudji dwar il-mina
Tnax-il organizzazzjoni li jirrappreżentaw firxa wiesgħa tas-soċjetà ippreżentaw protest ġudizzjarju kontra l-Ministru tat-Trasport u l-Awtorità tal-Ippjanar biex jiżvelaw l-istudji kollha li għandhom x'jaqsmu mal-mina bejn Malta u Għawdex. Huma talbu wkoll li jsir Strategic Environmental Assessment (SEA) kif mitlub mil-liġijiet nazzjonali u tal-UE.
L-organizzazzjonijiet qalu: "Jeħtieġ li nieqfu nilagħbu noli u li nżommu informazzjoni essenzjali milli toħroġ fil-pubbliku. Il-mina proposta se jkollha konsegwenzi enormi u fit-tul fuq is-saħħa, il-kwalità tal-ħajja u l-ambjent ta' kull min joqgħod Malta jew Għawdex. Iċ-ċittadini ma jistgħux jitħallew fl-għama rigward l-implikazzjonijiet veri ta' deċiżjoniiet radikali bħal dawn. Aħna qegħdin insejħu lill-awtoritajiet biex jippubblikaw l-istudji kollha biex iċ-ċittadini jkunu jistgħu jiffurmaw opinjoni bbażata fuq il-fatti. Dan huwa prinċipju ewlieni tad-demokrazija".
It-tnax-il organizzazzjoni li qed jippreżentaw il-protest ġudizzjarju huma:
Din l-Art Ħelwa, Ramblers' Association of Malta, Nature Trust (Malta), BirdLife Malta, Friends of the Earth Malta, Moviment Graffitti, The Archaeological Society Malta, Flimkien għal Ambjent Aħjar, Kamra tal-Periti, Isles of the Left, Bicycle Advocacy Group u Żminijietna – Leħen ix-Xellug