Glyphosate renewal gridlock
Malta votes against renewal of harmful weed killer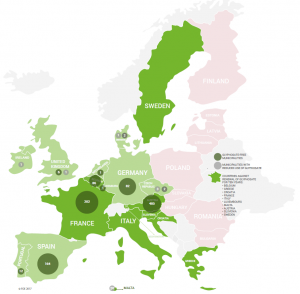 Reacting to the failure of the European Commission and EU Member States to agree on the renewal of the herbicide glyphosate, Martin Galea De Giovanni, Director of Friends of the Earth Malta said that "this is yet another positive development following years of campaigning since tests carried out by Friends of the Earth Malta in 2013 showed that traces of the weed killer glyphosate were found in 9 out of 10 people tested."
Following a previous vote in 2016 where Malta was the only country who voted against the renewal it is very reassuring to note that there are now 8 other European countries backing the ban, with another 5 abstaining. This announcement shows responsibility from government's side as it chose to listen to the concerns of experts and individuals who have demanded that our fields, streets and gardens would be free from this risky weed killer.
Adrian Bebb, food and farming campaigner at Friends of the Earth Europe said: "Overwhelming public pressure is paying off, with a clear lack of political support to extend the licence for glyphosate. This weedkiller locks in reckless industrial farming, damages nature and probably causes cancer. When the final decision comes around, there's only one responsible option – take it off the market immediately, and support farmers to help them get off the chemical treadmill."
The European Commission announced that it will now submit the proposal to the appeal committee at the end of November. FoE Malta hopes that more European countries follow Malta's example and ensure that European farming becomes safer and greener for the benefit of all European citizens.
Notes:
[1] Representatives from Member States voted on a European Commission proposal to re-authorise glyphosate for five years. The proposal failed to get a qualified majority, meaning either the same proposal or an edited one will be submitted to an appeal committee by the end of November for another vote. If there is no qualified majority in this vote, the European Commission will have to take a decision. The license for glyphosate in the EU expires on December 15 2017.
Vote breakdown:
In favour: 14 Member States (36,95% of EU population) CZ, DK, EE, IE, ES, LV, LT, HU, NL, SV, SK, FI, SE, UK,
Against: 9 Member States (32,26% of EU population) BE, EL, FR, HR, IT, CY, LU, MT, AT
Abstained: 5 Member States (30.79% of EU population) BG, DE, PL, PT, RO
Timeline of the renewal process, including the proposal voted on today: https://ec.europa.eu/food/plant/pesticides/glyphosate_en