We are currently looking for your generous support in order to help us develop the first voluntary run service in Malta specifically aimed to assist members of the public with legal and generic aid on environmental related matters. Members of the public will be provided with expertise through a dedicated schedule of service as well as access to a resource library with relevant publications, handbooks and other educational materials.  The Green Resource Centre will also host our head office from which all activities and operations are co-ordinated. In addition to office space and equipment, the centre will incorporate a multifunctional hall with audio visual facilities and an urban garden which will enable us to organise more workshops and activities – including our now established BeeAware Course, urban gardening and vegan cooking classes.
This initiative is only one of a number of components FoE Malta has established as part of an extensive 3 year plan that will see all these initiatives combine into a solid and innovative hub of volunteering activities.
FoE Malta regularly receives requests from the public asking for help particularly regarding the threat to Malta's limited open spaces, and therefore as a NGO FoE Malta believes that the establishment of a Green Resource Centre will provide the public with the information they need to make positive changes. It would also provide a stronger auditing role on local governance within the environmental sphere. This service, expected to commence in March 2019, will offer advice and support to enhance public participation in environmental issues including legal action.
Through the legal and environmental one-stop-shop the public is expected to be empowered with the knowledge and tools they need to make positive changes in safeguarding our natural heritage. Individual members of the public will be provided with advice and support to understand the administrative processes, policies as well as general knowledge on environmental issues. Legal advice related to available action that can be taken towards addressing environmental issues will also be provided.
---
Main services provided: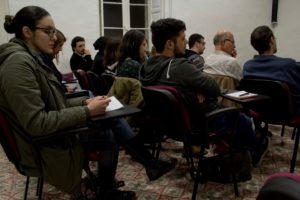 Expert advice and support on environmental management options, particularly to transform and make daily life operations/activities more eco-friendly. In addition to one to one advice, regular specialist workshops will be developed, aimed at communicating awareness on methods to reduce our impact on the environment. We also aim to create a library of manuals available to the public so that the impacts of the workshops are long lasting.
Legal advice and support for individuals and groups who want to challenge cases of illegal development, pollution and decisions taken to the detriment of the environment. Those seeking assistance will be able to visit the centre and speak to professionals as well as contact them via telephone, email and social media. The scope and level of service to be provided may be extended in the future, depending on the performance of the initial years as well as demand.
---
Timeline
FoE Malta plans to have the infrastructural works on the premises completed by end of June. This would create the space to provide the expert advice and support on environmental management options through a weekly service in the first year, with quarterly workshops organised on an annual basis. Once the office space and equipment are established, the legal service will start to operate – targeted for May 2019.