Plants and Nature Conveying Augmented Knowledge for Everyone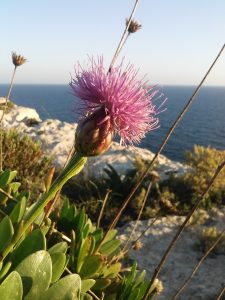 Continuing with our list of Flora being interpreted into sign language comes the floral queen of the Maltese Islands – the National Plant of Malta. A well deserved entry into the dictionary of Maltese Sign Language!
Maltese Rock Centaury (MT: Widnet il-Baħar) Cheirolophus crassifolius
In flower from around May till July the violet flowerheads and its fleshy leaves brighten up the limestone cliffs and valleys of the western part of Malta and the southern side of Gozo. This expert of living on the edge is endemic – unique to our islands and its Maltese name indicates its predilection for coastal areas. Despite being a protected species it is considered threatened due to its habitat being destroyed or altered by human activities such as quarrying. If you wish to buy a local plant that is hardy, drought and heat resistant and creates quite a rapid green cover as well as a haven for bees this could be a perfect plant and should be seen more widely in landscaping. Once you have bought a locally grown plant it is relatively easy to grow more from cuttings.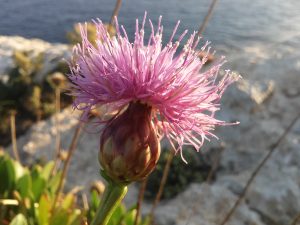 Check out our Community library for publications on local biodiversity!
Photos and text by Annalise Falzon


Plants and Nature Conveying Augmented Knowledge for Everyone