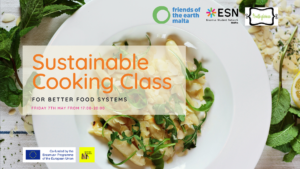 Friends of the Earth Malta together with Healthylicious and ESN Malta will be hosting an ONLINE Sustainable Cooking Workshop on Friday 07 May from 17:00 to 20:00 for all ESN Members, Universit Students and other Youth. The workshop will be held using Zoom.
The focus of the cooking class will be exploring sustainable cooking and food systems, from local produce, organic and fair trade products.
Say goodbye to microwave dinners and learn how to cook with fresh seasonal, local and homegrown ingredients. You will be trying delicious Vegetarian recipes that are both good for our health and also the planet. Chef Stefania prepares delicious recipes to feature mainly local & seasonal ingredients and those coming from close by. This is a vegetarian workshop but Stefania will be offering vegan alternatives.
On the day we will be cooking:
Gnocchi with Broad Bean and Mint Pesto (GF & vegetarian but can be adapted to be fully vegan)
Pannacotta with poached loquat (naspli in Maltese) (GF & vegan)
Ingredient packs will be prepared for all participants and these will need to be picked up by participants a day or 2 before the event, from the ESN office at the University of Malta.
Further communication will be sent to you following registration. You will receive instructions on when to pick up the ingredient box, a list of utensils to use and the Zoom link, and information on how to join the call.
The deadline to register is Sunday 2 May! Register Below:
A deposit of €5 is required, this is to ensure that the participants that register pick up the ingredient packs since we wouldn't want ingredients to go to waste. The deposit is 90% reimbursable following attendance to this event (i.e. €4.50 will be reimbursed since 50c is part of the transaction fee). There are only places for 25 participants to attend on a first come first serve basis. Priority is given to ESN members, other University students and youth (based in Malta) can also apply. 
BOOKING CLOSED
This activity is part of our System Reset project.