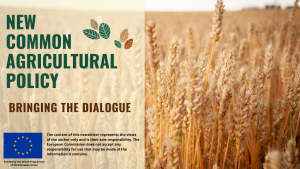 What does new European Agricultural policy promise to Malta's  sector?
Contextualizing the Common Agriculture Policy 2023 -2027
This workshop aimed at journalists and media houses seeks to raise awareness of the new Common Agriculture Policy, the links with the European Green Deal targets,  the newest developments on Malta's National Strategic Plan, and to equip journalists for them to report easily on the issue, increasing the frequency of information exchanged and higher engagement with the Common Agricultural Policy.
The format of the workshop will be through presentations followed by a panel discussion facilitating a lively discussion.
Furthermore, we have invited three speakers:
Sonya Sammut – Chief policy officer responsible for food policy at the Ministry for Agriculture, Fisheries, and Animal Rights. 
Mario Balzan – Senior Lecturer at the Malta College of Arts, Science and Technology (MCAST), and the Coordinator of the Horizon 2020 project ReNature.
Jeannette Borg – Founder and admin of the Malta Youth in Agriculture Foundation (VO/0823). Co-founded the Merill Rural Network, and managed a LEADER-funded project through EAFRD. 
The event will be held on the 9th of June in Floriana from 10:00-13.30.
Registration is obligatory. Kindly fill in the form below.
#NewCap

Media Workshop June 2022
What does the new CAP promise to Malta's agriculture sector? Contextualizing the Common Agriculture Policy 2023 -20272.