Giving up is not an option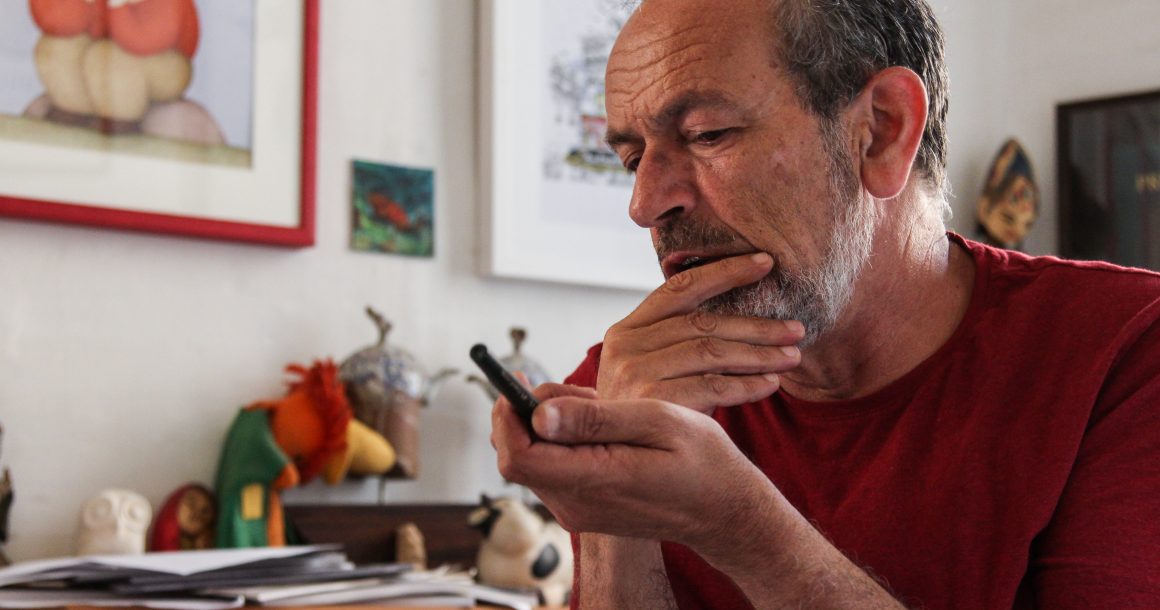 The question of what drives an activist to pursue their cause, in a country which has historically not been kind to those who voice an opposing opinion, has always fascinated me. For Steve Bonello, a veteran Maltese cartoonist, shying behind the idea that any issues which face Malta today can be considered as a problem for future generations is an alien concept to him. Nevertheless, Steve is charged with a healthy level of scepticism which perhaps drives him forward to continue. He is aware that change does not happen overnight.
His cartoons satirise the political, cultural and environmental issues which the island faces; for over 25 years he has produced weekly content for the Times of Malta. His Facebook page, which now boasts of a staggering 9,000 likes, is dedicated to images of his cartoons, commissions and photos from his constant exploration of the island. He explains that 'I am the kind of person who drives by a small alley way and has to return to explore it further.' With that being said, Steve started driving at the age of 38 and it was clear from our conversation that he prefers walking or catching the bus back to the hidden corners that peak his interest.
His deep love for the exploration of the Maltese islands stems from his art history lessons with Prof. Mario Buhagiar in secondary school. Prof. Buhagiar is well known in the local circles of history of art as the man who almost single-handedly introduced the discipline to the University of Malta, where he still lectures today. Referring to on-site lessons with Prof. Buhagiar, Steve says, 'He used to take us to places which were, in those days, far-out.' The moments outside the classroom captured the young-Steve's imagination who began to fall in love with these hidden corners. Prof. Buhagiar's lessons had a lasting impact on Steve who continues to explore these 'far-out' places to this day and they made Steve appreciate Malta's beauty.
His foray into the world of cartooning came a bit later in 1984 when he was visiting London, where he came across the work of British cartoonist Ralph Steadman, who Steve describes, with great admiration for the artist as, 'out of this world.' Before this moment he had not considered that 'cartoons could be used in such a brutal way.' Although, he confesses that in the late 70s he used to buy the Times of Malta just to see the cartoon by the late Maurice Tanti Burlò, better known by his pen name Nalizpelra, who produced cartoons for over 35 years. Steve also cites Spanish artist Goya's later work, which often represented the chilling reality of war, as another influence in the choice to inject a thoroughly sobering morality into his work.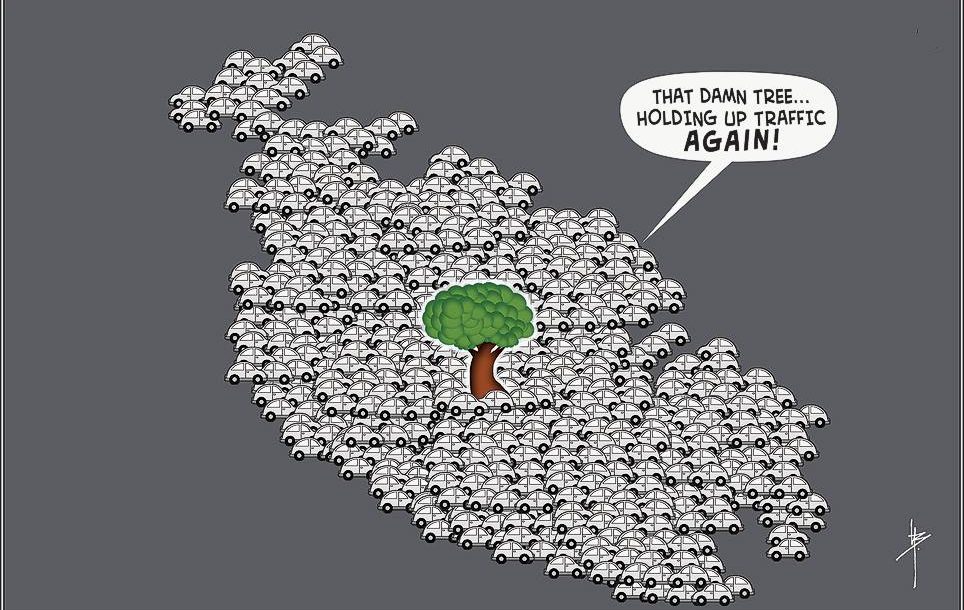 Steve's cartoons are characterised by his strong comedic voice, however, the audience only laughs for a moment before they consider the harsh reality that his cartoons portray. This is best exemplifiedin a recent cartoon by Steve about the wide-spread massacre of trees in Malta. Steve's response is a lone tree in the centre of a Malta which is quite literally overrun by cars. The cars, of course, attribute the issue of traffic to 'That damn tree…' We, the audience, responds with laughter at this exaggerated portrayal of Malta but anyone who is informed about the issue quickly stops to consider the message being sent. The hyperbolic statement is underscored by echoes of the Environment Minister Jose Herrera's recent claim that uprooting trees is 'a must to prevent congestion', as quoted in a Times of Malta article. The audience laments over Malta's fate, this image is not totally far-fetched.
There are few topics that Steve won't approach with his typical wit because he believes that life is too short to stop laughing saying that, 'the only alternative to laughing, is to despair.' So perhaps the humour in his cartoons could be viewed as a coping mechanism against the bleak reality that we face here in Malta, by his own admission laughter is 'the only way to survive in this place.' But, it is also a way to capture the audience's attention in a fast-paced world where people no longer have the time to read lengthy essays, they just want the punch-line.
Steve believes that the on-going environmental issues on the island – which he emphasises is not a recent issue but one that dates back decades – stem from the people's 'ignorance of our surrounding landscape.' He adds that, 'I still meet people who do not know where il-Park tal-Majjistral is, or who believe a park should be 'built' like ta' Qali, rather than being left to its own devices. It's sad, but it's true.' He ends with a clear warning, 'if we are not aware of these spaces, they are easier to take away.'
Ultimately for Steve, 'giving up is not an option.' He admits that his unwavering drive comes from never being satisfied with his work, the fight for a better Malta continues. Although the 'middle-finger-buildings' and Lego block constructions that are beginning to define Malta's skyline lack the unique beauty which captured the imagination of the secondary-school-Steve, his message to elected officials is clear. He simply asks for them to think beyond the next election because 'all of these changes are happening without a plan.'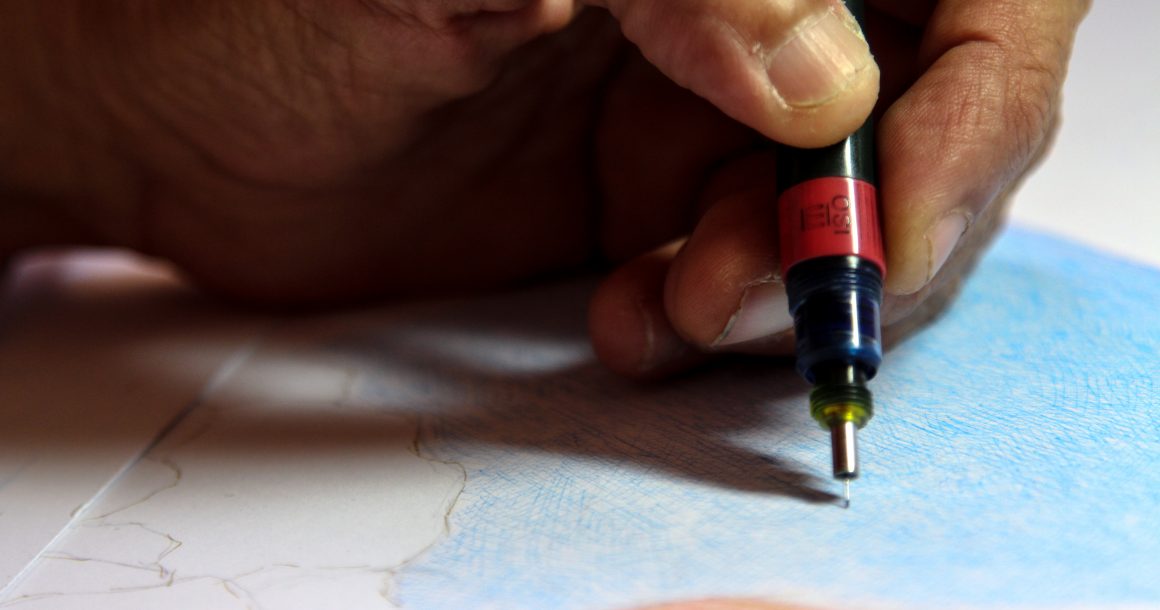 The article has been written by Maria Eileen Fsadni based on an interview she has conducted with Steve Bonello. Photography thanks to Mikela Zerafa. The illustration in the article has been republished with permission granted by Steve Bonello.