Interview with Andre Callus activist from Moviment Graffitti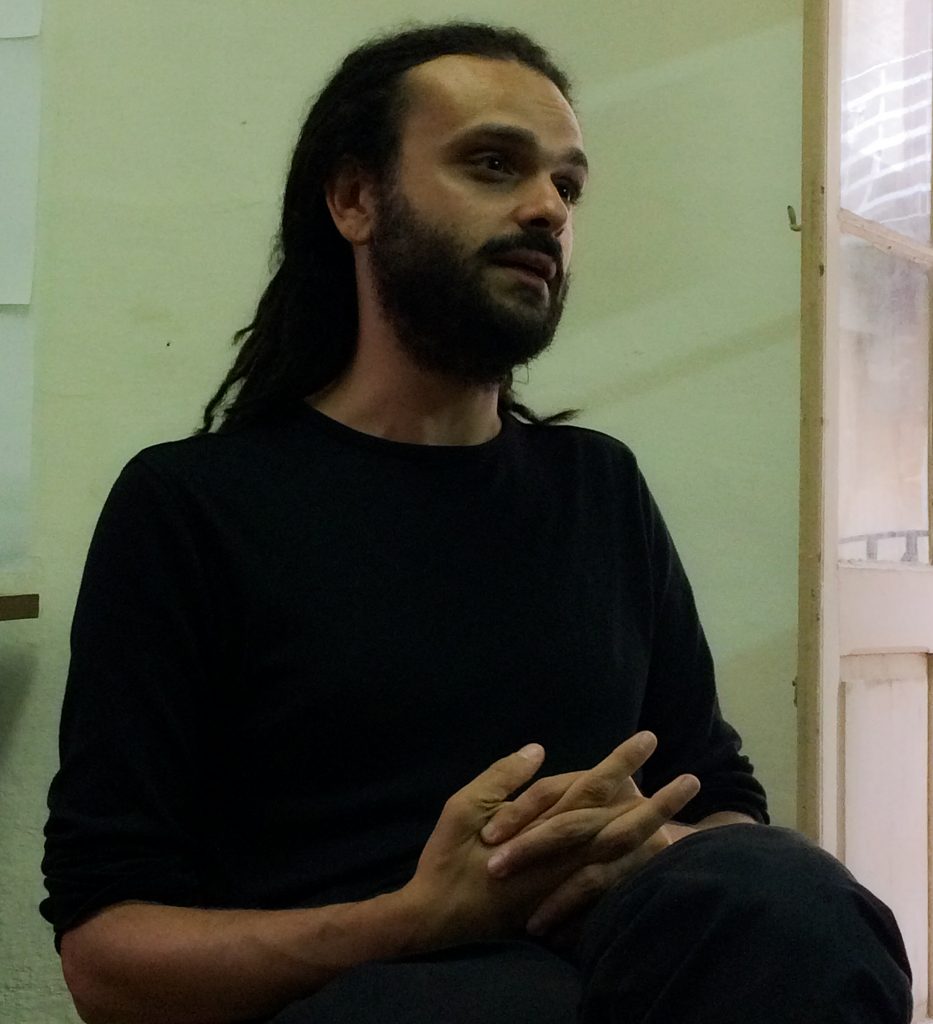 The videos of activists from Moviment Graffitti being forcefully dragged out by the Rapid Intervention Unit during a non-violent protest last month felt surreal. Images of force being used against protesters usually hail from some far away country. While Maltese activists have faced violence in the past, it was difficult to comprehend in 2018. Viewers heard cries of 'timbuttax' (don't push) and 'tużawx forza' (don't use force) which meant that it was inescapably happening in Malta. A concept which seemed foreign, or stuck in the past was now local and present.
The protest aimed to place pressure on elected officials to carry out a promise made at the beginning of the year to change a policy enacted in 2015. The policy allows fuel stations to be relocated from 'unsafe' urban areas to what is left of our Outside Development Zones (ODZ). Andre Callus explains that it was held now, because 'months passed and it did not change' after Graffitti's first protest against the policy back in April. The primary aim of these types of protests are to 'put pressure' on those individuals who believe they can continue to abuse of the environment without consequence, to jolt them out of 'their comfort-zone.'
He believes that force was used 'precisely because it placed them in an uncomfortable spot, it was something that they are not used to.' Andre is not fazed by the events that happened on September 13th, as he explains with a smile on his face, 'they wanted to teach us a lesson, but that's not how it works.' Of course, as Andre points out 'direct action is just a fraction of what Graffitti do' and these protests are often a small part of a larger campaign.
Andre joined Graffitti at just 17 years old towards the end of the successful campaign, run jointly with other eNGOs, against the proposed Golf course at il-Park tal-Majjistral in Manikata. He attributes his interest in local environmental issues to his father who was a fundamental force in Andre's development as an activist. He recalls, 'going with my dad to sign a petition when a group of activists were participating in a hunger strike because of Portomaso', a campaign which was unfortunately not successful. Now 32, he has witnessed the highs and lows in the fight to safeguard Malta's environment, which he feels is 'under siege' at the moment.
This siege is perhaps best represented by the recent approval from the PA board of a monstrous 37-storey building in Pembroke, which is going to be built in a predominantly residential area as well as being adjacent to a Natura 2000 site and a natural cave. The building was approved despite 4,500 objections from the general public in what Andre called a 'staged process' by the PA board who met on the 20thof September. The audience at the meeting was filled with pseudo-supporters shamelessly planted by db Group, the developers behind the project. News shortly followed that one of the board members, Jacqueline Gili, was flown in on a private jet which cost over €8,000. Andre does not feel defeated by the developer's charades, they actually inject a sense of hope into the situation for him. He recognises 'that perhaps the effects of the campaign did not go unnoticed' and these were actually signs of fear by the developers.
The Pembroke residents-led campaign,'Don't Bury Us Alive', which Graffitti contributed to, was instrumental in giving a voice to the residents of Pembroke, the NGO helped collect objections from the general public and they were supported by 3 different local councils whose mayors have opposing political backgrounds. Despite not achieving the outcome he was hoping for, he still finds a silver lining in the situation as he underscores the community that was built around the campaign. He expresses that seeing people from all walks of life come together, 'gives me a lot of courage.' Andre does not fail to point out that 'the fight is not over yet, we are still thinking of our next step', in reference to the appeals process which Graffitti, other NGOs and local councils would like to pursue.
He does at times stop to question whether 'all this is actually effective? Are we managing to change something?' Now rife with over-development, he believes that 'Malta is really becoming hell' due to past and present decisions which favour short-term gains but fail to plan for the long-term. Nevertheless, he tells me that 'every struggle, every fight, changes something in a positive way on a social level.' Taking himself as an example he explains that, 'I was just a kid and yet I was inspired seeing those activists who were ready to go on a hunger strike, to protest something they believed it.' These extreme measures triggered something inside the young-Andre to pursue a life-long commitment to fight for what he believes in.
The only person who can get in the way of that fight, he confesses, is his daughter. He explains, 'having a daughter is one of the things that makes me want to leave here. It is actually sad seeing her grow up in this type of environment. It's not just about the aesthetics, it's about the whole feeling. The urban spaces that have not been planned which contributes to a lot of stress, a lot of congestion, dust and smoke.' He worries that this is 'not conducive to a normal decent life' for his young daughter.
His message to elected officials, 'we live in a supposedly democratic country so they should ensure the interests of the majority of people and also generations to come.' He continues, perhaps inspired by his daughter, that 'the country we are leaving to our children is a mess, it is a complete mess… it is becoming unliveable.' Nevertheless, Andre ends with a positive message to other activists reminding people that, 'where there is resistance, there is hope.'
You can donate to the fund for legal action against the ITS  – db Group project here